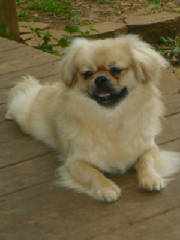 Imports from:
Australia, Finland, France, Scotland, Slovenia, Sweden
Thank you Pam Talbot [TOREANA] for sending Liana Craven [TAMZIL] and I such an outstanding quality male Tibetan Spaniel in 2002.
TeCee was the #1 AKC Top Producing Tibetan Spaniel male in 2007. He also won the "Stud Dog" class at the 2005 TSCA National Specialty held in New Mexico.
TeCee has produced several daughters who have won the hightest class awards since 2005 given at the yearly TSCA National Specialty, and TSCA National Supported Entry, by winning one or all of these classes: "Winners Bitch", "Best Of Winners", "Best Bred-By Exhibitor".
"EIFFEL"
Thank you Crystele for sending me such a handsome and striking boy in 2007! Eiffel is out of a tri colored mother [XILO], and a red/white parti father [TIGER] who is also a litterbrother to TECEE.
Crystele, thank you for sending me such a VERY, VERY SPECIAL GIRL in 2007! Paris is a "Brandon" granddaughter, and such a sweetheart...she is truly a great asset to my breeding program.
Thank you again for making such an effort to do this breeding, and for sending me the pick puppy who comes down from my very special boy, Brandon [CH. Tamzil Alchrist Brand'n Iron]!!!
"MAKK"
P'zazz Marimekko
[CH. Arundina The Great Mogul X Souska What Now My Love]
I want to thank Cathrin Westin [P'ZAZZ] very, very much for sending me this wonderful boy who has turned out to be quite the INTELLIGENT and HANDSOME Tibbie, and the joy of my life! Makk is so wonderful and fun to live with, and not only does he make me SMILE, he loves to smile back at me! Look for Makk in the show ring this summer, 2010.
"AZALYN"
Ziestan Azalyn
[Dragonsong Goh Khyi X Ziestan Aileen]
Thank you so much Iina Mattila [ZIESTAN] for sending me such a beautiful girl, Azalyn, this year. She is such a joy, and I look foward to taking her in the show ring!